Diabox: How to setup the alarms. Facebook Diabox How to setup
¡Hoy es el día de concientización sobre la Diabetes! ¡Obtén un descuento especial en nuestra tienda usando el...
A New revolutionary device Bubble mini
Take control of your blood glucose levels wherever you are with just a look at your mobile phone
Mantenga un estricto control de la glucosa en sangre con actualizaciones automáticas de azúcar en sangre cada cinco minutos enviadas directamente a su dispositivo móvil.
Bellamente diseñado
Bubble se ha construido pensando en la comodidad, evitando los bordes que pueden complicar su uso en el día a día y para que la carga sea sencilla.
Fácil de usar
Con nuestras exclusivas pegatinas Bubble, el cinturón suave especialmente diseñado o incluso un simple apósito, tendrás muchas opciones disponibles para encontrar el que mejor se adapte a ti y a tu Bubble.
Diabox para iOS y Android
La aplicación Bubble Diabox es compatible con iOS y Android.
Recargable y reutilizable
Bubble es recargable gracias al cargador magnético incluido en la caja. Con más de 14 días o más de batería, siempre puede estar seguro de que su Bubble está cargada y lista para funcionar.
Impermeable
Un marco compacto herméticamente sellado mejora la durabilidad y hace que el Bubble sea impermeable. El dispositivo está garantizado hasta 30 minutos y 2 m de profundidad en agua dulce.
No se encontraron productos que concuerden con la selección.
Bubblan Everything you need in one device for all freestyle libre users.
Aplicación Diabox
Ofrece la funcionalidad de alarmas cuando ocurre hipoglucemia o tener una plataforma para ver su glucosa en sangre de un vistazo en su teléfono inteligente o reloj.
iOS cambiar a maestro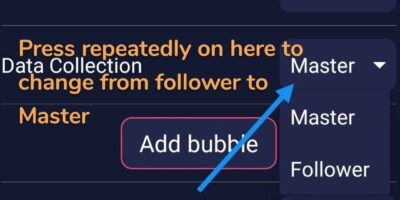 Marca bubblan
Desarrollado desde cero por diabéticos tipo 1, Bubblan tiene un enfoque genuino en hacer la vida un poco más fácil.
Do You Need Help?
Here you will find all the manuals and links for configuring the app, both for iOS and Android.
Easy to use, informative. Having my blood sugar come in every 5 minutes with my Bubble transmitter is amazing. I love seeing my estimated a1c. it would take some work but I would like to see an algorithm put in which learns how your body reacts to the amount of insulin you administer and the results...
Just started using the bubble transmitter and I'm really loving it, much better than the blucon nightrider. I also like the app very much as well, stays connected, nice clean looking main page. The one thing that would make this app a 5 star would be the addition of a calibration mode which I unders...
Only been using diabox (and the bubble) for a few days (been using miaomiao and xdrip for a while). So far diabox is a much more pleasant experience and hasn't yet disconnected from the bubble, which miaomiao/xdrip did a lot for me. Some things that could improve: - when glucose levels change, the n...