DiaBox Me App works with Bubble Mini to give you valuable information to follow up your Diabetes treatment, such as...
A New revolutionary device Bubble mini
Take control of your blood glucose levels wherever you are with just a look at your mobile phone
Keep blood glucose control tight with automatic blood sugar updates every five minutes sent straight to your mobile device.
Beautifully designed
Bubble has been built with comfort in mind, avoiding edges that can complicate its wearing in your day to day and to keep charging simple.
Easy to wear
With our signature Bubble stickers, the soft specially designed belt, or even a simple dressing, you will have plenty of options available to find the best fit for you and your Bubble.
Diabox for iOS and Android
Bubble app Diabox is compatible with both iOS and Android.
Rechargeable and re-usable
Bubble is rechargeable thanks to the magnetic charger included in the box. With over 14 days or more of battery, you can always be sure your Bubble is charged and ready to go.
Waterproof
A compact tightly sealed frame improves durability and makes the Bubble waterproof. The device is guaranteed up to 30 minutes and 2m deep in fresh water.
199.00

€

inc. Vat
What's Included?
-Bubble Mini CGM
-10 Uses Of Stickers
-A magnetic USB connector for Charging.
Bubblan Everything you need in one device for all freestyle libre users.
Diabox app
Offers the functionality of alarms when hypoglycemia occurs or having a platform to see your blood glucose at a glance on your smartphone or watch.
iOS Change to Master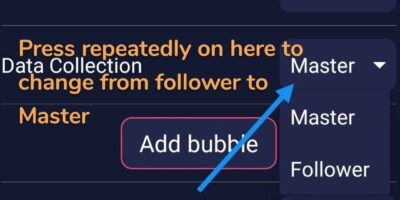 Bubblan brand
Developed from the ground up by Type 1 Diabetics, Bubblan has a genuine focus on making life just that little bit easier.
Do You Need Help?
Here you will find all the manuals and links for configuring the app, both for iOS and Android.