Contact
And frequently asked questions.
Is Bubble available in my country?
We ship worldwide using DHL or Postnord,
Delivery time depends on location
Postnord
Inside EU 7-30 days
Outside EU 30-60 days
DHL Express
3-5 Days worldwide, in some countries next day delivery.
How will I get confirmation that my order is placed?
You will get an order confirmation email once you have placed the order. Please check your spam folder in case it is not showing in your Inbox, otherwise contact
How long does the battery last?
One full charge takes about 60minutes
and lasts for a minimum of 10 to 18 days depending on usage.
You can also reset the Bubble by swiping the flat side of the charger on the bubble and a red light will flash to indicate its been reset.
How long is warranty?
Bubblan comes with 12 months warranty for the original buyer. Any physical damage to the device will void the warranty. The customer is responsible for the return shipping cost.
Customers can return the device for a refund ( minus shipping cost) in first 14 days from the delivery if it's never used. Once device is used it can only be replaced or repaired.
How to reset the bubble?
Swipe the flat side of the charger on top of the bubble and see a red light blink once.
What phones does Bubble/Diabox work on?
Does my phone need NFc?
No, all you need is Bluetooth on your phone, most smartphones come with Bluetooth.
How far is the Bluetooth range?
Bluetooth connections work up to 15 meters.
Does this alert you if your levels are high or really low?
It gives you a sound and notification at given warning points you set.
It also notifies you when your sugar is rising or dropping quickly.
You can set custom alarms or vibrations, also have your readings read out to you using speech readings.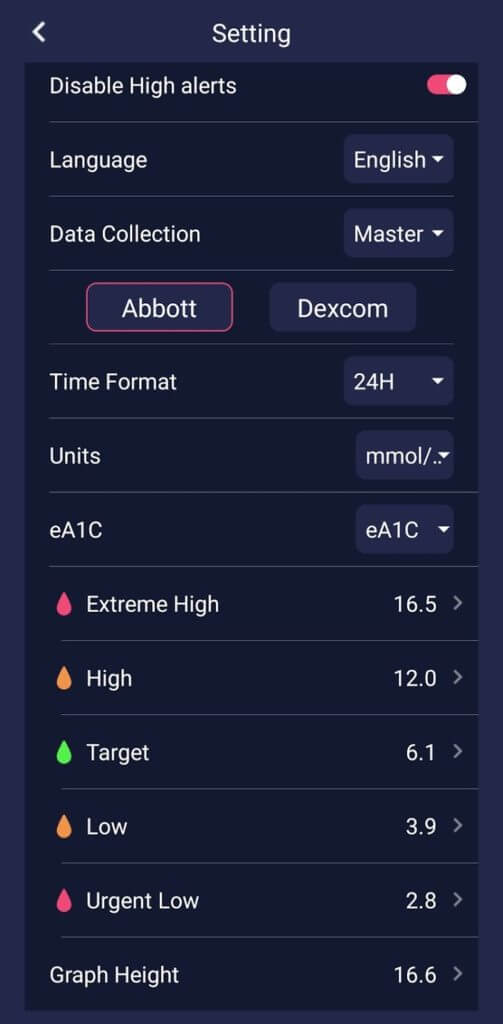 Where can i find older versions of Diabox for Android?
I can't find my Bubble in Diabox
Make sure your bubble is fully charged.
 Put it back in the Box with the magnet for 30 seconds to reset the device
Make sure location services are enabled)
Keep your Bubble close to your phone.
Press add CGM – Abbott – Scan. – In the list, you should see your device
Bubble:xX:xx:XX:xx 
Does it work with Xdrip+?
Yes it works with latest Xdrip+
Testflight age restriction.
Children under 13* can't create an Apple ID on their own. However, the family organizer can create an Apple ID on their child's behalf. If your child already has an Apple ID, you can add it to your family group and update their email address, date of birth, security questions, and more
No network
No network, so you should turn on your cellular network or WiFi.
Sensor error
Means Diabox cannot convert the sensor data to a valid glucose, for example ,the glucose is 0 or very high( >500mg/dl ) or very low ( <30 )
What sensors can Bubble read?
Diabox can read the following sensors.
Libre
Libre 2 EU
Libre US14
Libre Pro
In progress
Libre 2 US
Can it read US 14 days, and Libre 2 US ?
Yes, it can read libre US 14 days.
and we are working on Libre 2 US at the moment.
No answers to your question? Send us an email.
[contact-form-7 id=»3551″]