Diabox: How to setup the alarms. Facebook Diabox How to setup
It is Diabetes Awareness month! and Get a special discount from our shop using "BUBBLAN" code! Manage BS,...
Bus eller godis? Vilka är era favoritsockerfria godbitar till Halloween? Kommentarer nedan! Använd #BUBBLAN-kod och...
A New revolutionary device Bubble mini
Take control of your blood glucose levels wherever you are with just a look at your mobile phone
Håll blodsockerkontrollen tät med automatiska blodsockeruppdateringar var femte minut som skickas direkt till din mobila enhet.
Vackert designad
Bubble har byggts med tanke på komfort, vilket undviker kanter som kan komplicera dess bärande dagligen och för att hålla laddningen enkel.
Lätt att bära
Med våra karakteristiska Bubble-klistermärken, det mjuka specialdesignade bältet eller till och med en enkel förband, har du många alternativ tillgängliga för att hitta den bästa passformen för dig och din Bubble.
Diabox för iOS och Android
Bubble-appen Diabox är kompatibel med både iOS och Android.
Laddningsbart och återanvändbart
Bubble är uppladdningsbar tack vare den magnetiska laddaren som ingår i lådan. Med mer än 14 dagars batteri kan du alltid vara säker på att din Bubble är laddad och redo att gå.
Vattentät
En kompakt tätt tät ram förbättrar hållbarheten och gör Bubble vattentät. Enheten är garanterad upp till 30 minuter och 2 m djup i färskvatten.
Inga produkter hittades som motsvarar ditt val.
Bubblan Everything you need in one device for all freestyle libre users.
Diabox-appen
Erbjuder funktionaliteten för larm när hypoglykemi uppstår eller har en plattform för att se ditt blodsocker med en blick på din smartphone eller klocka.
iOS Byt till Master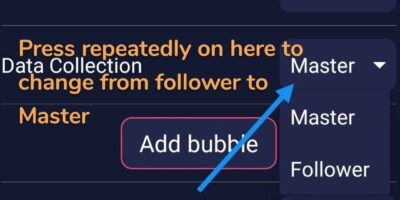 Bubblan varumärke
Bubblan har utvecklats från grunden av typ 1-diabetiker och har ett genuint fokus på att göra livet bara lite enklare.
Do You Need Help?
Here you will find all the manuals and links for configuring the app, both for iOS and Android.
Easy to use, informative. Having my blood sugar come in every 5 minutes with my Bubble transmitter is amazing. I love seeing my estimated a1c. it would take some work but I would like to see an algorithm put in which learns how your body reacts to the amount of insulin you administer and the results...
Just started using the bubble transmitter and I'm really loving it, much better than the blucon nightrider. I also like the app very much as well, stays connected, nice clean looking main page. The one thing that would make this app a 5 star would be the addition of a calibration mode which I unders...
Only been using diabox (and the bubble) for a few days (been using miaomiao and xdrip for a while). So far diabox is a much more pleasant experience and hasn't yet disconnected from the bubble, which miaomiao/xdrip did a lot for me. Some things that could improve: - when glucose levels change, the n...